2021 ~ Reunion All Year
You probably know that we will not be able to gather in-person to celebrate our 55th reunion in late May/early June.
Undaunted, we're having a series of virtual "reunion year gatherings," and will have a full slate of virtual reunion events during the first week of June, highlighted by sessions with Professors Michael Sandel and Roj Chetty. We'll post a calendar before the end of March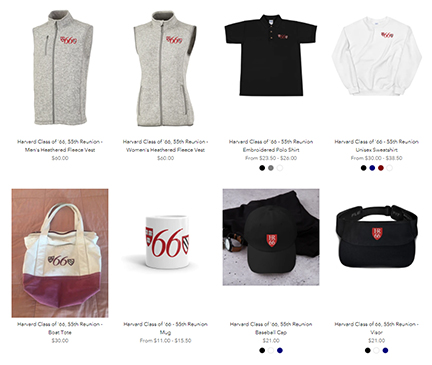 Limited Time Class Store
March 8 - April 9
To celebrate our reunion year, we've created a new selection of class logo apparel and merchandise. Th store isbeing run by Harvard Student Agencies. It's only open a month so that all merchandise can arrive before reunion time. All items will be made to orde – no refunds or exchanges – so please check sizes and colors when placing your order! Size Note: XXL sizes are now available for all apparel items. We'd love to see everyone in class gear at our June reunion!
The store will close on Friday, April 9. To get to the store, click here.
News and Links
Co-class secretary Tom Black continues to churn out our monthly class newsletter to keep us in touch. The current issue and an archive of these is on the Connect link ubove, then Class Newslettes or click here.
There are new classmate books at Our Class > Clasmate Books (above) or click here. A great range of topics and you can click on any of them and get directly to Amazon to order a copy.
Our classmate memorial list has always been updated monthly - Our Class > In Memoriam
We now have our own class Zoom lincense which can be used by any classmate group - just contact webmaster@hr66.org to set something up.
We welcome your comments and questions at reunion@hr66.org or webmaster@hr66.org
---