2021 ~ 55th Reunion
While we needed to
celebrate our 55th reunion virtually, our Reunion Committeed delivered a full slate of events including a class historical retrospective, 10 short talks by classmates, a panel of classmate physiciants discussing the issues around Covid-19, a clasmate musical presentation, recorded interviews with classmate authors and artists and presentations by Professors Michael Sandel and Raj Chetty.
Click on the page to the left

to see and download the whole schudule complete with links to the recordings of most every event. Enjoy.
H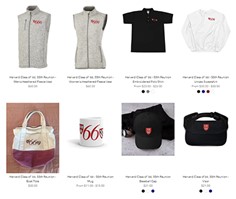 R66 Class Store is Back until June 18
If you missed updating your class wardrobe or getting some other treasured items, our class store is bak for a few weeks and then will close for the year. Here's a link:
Co-class secretary Tom Black continues to churn out our monthly
class newsletter
to keep us in touch. The current issue and an archive of these is on the Connect link ubove, then Class Newslettes or
click here
.
Classmate Tony Kahn continues to interview classmates about their Harvard-Radcliffe days. In April, he's added Wendy Philbrick, David Andelman and Sherman Abe to the growing list - which you can find on the Our Cliass menu > Classmate Interviews or
click here
.
There are
new classmate books
at Our Class > Clasmate Books (above) or
click here
. A great range of topics and you can click on any of them and get directly to Amazon to order a copy. New: the video interviews done with classmate authors for the reunion are now linked with their books in the Classmate Book section. More of these interviews will be added in coming months.
Our
classmate memorial
list has always been updated monthly - Our Class > In Memoriam
We now have our own
class Zoom license
which can be used by any classmate group - just contact webmaster@hr66.org to set something up.
---